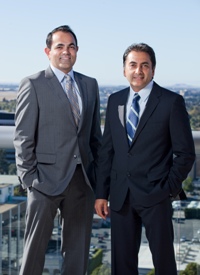 Landmark Successes
Kalantari v. NITV, Inc., 352 F.3d 1202
Landmark decision concerning copyrights and U.S. embargo regulations. Published opinion by 9th Circuit.

Rexall Sundown v. Mathias Rath
Favorable jury verdict against Rexall represented by Greenberg Traurig. Disputed amount exceeded $250 million dollars.

Momento v. Seccion Amarilla USA
Favorable settlement against Seccion Amarilla represented by Mayer Brown in a case concerning copyright and antitrust matters.
Mathias Rath v. ABR
Favorable judgment in excess of $900,000 concerning breach of clinical research agreement.

Kiumarz Lenahard Inc. v. MAKS, Inc.
Prevailed at trial in defense of claim exceeding $2.5 million dollars in a landlord/tenant matter.
Tan Tee Tan v. U.S. Bank, et al.
Successfully represented two co-defendants (J&J Seafoods, Inc.),in a two-phase trial, against a claim of conversion and punitive damages in a jury trial, which resulted in dismissal of both defendants .

Chattery International v. Jolida
Succeeded against Plaintiff's Preliminary Injunction concerning trademark infringement which resulted in a published opinion.

Modern Fence v. Qualipac Home Improvements
Successfully represented defendant concerning trademark infringement and antitrust matters in a jury trial, which resulted in full dismissal of the defendant and invalidation of the asserted trademarks (Reg. 291700 & Reg. 3337669).

Davoodi v. Hoozad Inc.
Successfully represented defendant in a preliminary injuction action regarding sale of corporate stock.

Vasquez v. Steven Creek Chrysler/Dodge
Successfully represented defendant Chrysler/Jeep/Dodge dealer in a claim of fraud under Consumer Legal Remedies Act, in a trial in Santa Clara County Superior Court resulting in judgment in favor of our client.

WRI Golden State LLC v. Hoi Vo et al.
Successfully defeating plaintiff's request for order of issuance of writ of attachment and obtaining a favorable result in the settlement for a breach of contract lease in the Superior Court of California Santa Clara County.

Dixon Gas Club LLC v. Safeway et al.
Successfully obtaining a preliminary injunction order against defendant Safeway in an anti-competition lawsuit in the Superior Court of California Alameda County.

East Jordan Plastics v. Ainong USA
Successfully represented defendant in defeating a trademark infringement preliminary injunction in the U.S. Central District Court of California.

Qi v. Lu et al.
Successfully represented defendants in a breach of contract action and obtained a judgment in excess of $200,000 against plaintiff in Superior Court of California Orange County.


Asystech et al. v. Eagle Eyes Traffic Industry, ANZOUSA, and Keystone Automotive
Successfully represented defendants in Eastern District of Wisconsin regarding allegations of infringement of four utility patents resulting amicable resolution to the matter.


Zaheri v. Estes Automotive Group II, Inc. et al.,
Successfully obtained judgment in excess of $1.3 million against defendants in a judge trial for various causes of action concerning breach of contract.